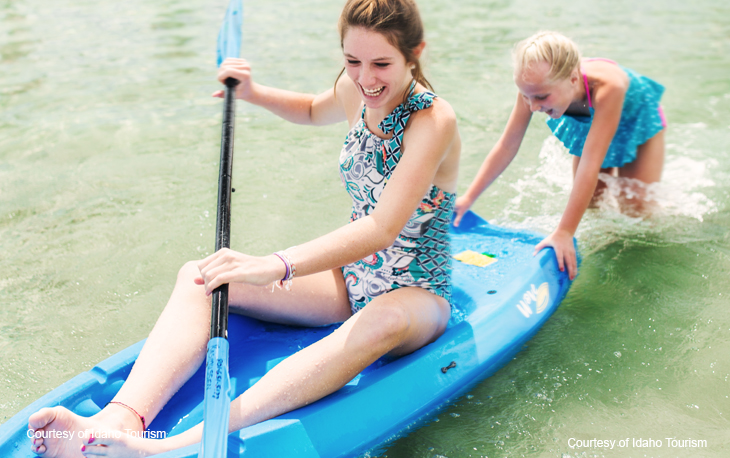 Farragut State Park is one of those special places that's fun and kid friendly all year round. It's located on the southern tip of Lake Pend Oreille, in a town called Bayview, just thirty miles from Coeur d'Alene. The park was formerly home of Farragut Naval Training Station, and today the Navy still maintains a submarine research center here. Today, there are more than forty miles of trails, 200+ campsites (most of which have modern restrooms), cabins, picnic areas, beaches, and more. Pend Oreille is the biggest lake in the state, and one of the deepest in the U.S., so the water is cold, clean, and a deep blue.
To get there, from Highway 95 at Athol, go east on Highway 54 for four miles until you see the Visitor Center on the right.
What to Do
Beaver Bay offers a shallow, protected swimming area for small children. Once you're ready to dry off, don't miss the area's hiking and biking trails. The park's Scout Trail #49 is just less than two miles. It's challenging on bicycle, but makes for a great family hike, with just a couple of steep spots on the way up to a lookout point above the lake. The park also offers a Junior Ranger program for kids. In the winter, start at the Visitor Center, where the trailhead for all snowshoeing, sledding, and cross-country skiing begins.
IDeal
Want to learn more about IDeal and how we can help your family enjoy today while preparing for tomorrow? Sign up here.
If you want to learn even more about Idaho's kid-friendly outdoor spots, check out 18 Summers, a website created by Visit Idaho.