Saving now can pay off long after college.
Not only are children with a college savings account much more likely to attend college, but their career earning power can be much higher than that of a high school graduate.
A college graduate will earn, on average, up to 65 percent more than the typical high school graduate.1 Over 40 years, that difference can equal $1 million or more, according to the U.S. Census Bureau.
Here's how income by education breaks down in Idaho: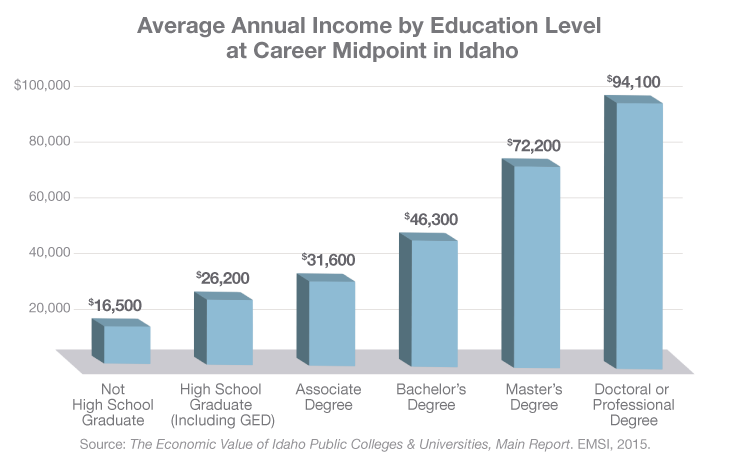 The chart represents average annual income by education level at career midpoint.
The real cost of borrowing vs. saving
The reality is, borrowing to pay for college significantly increases the long-term cost of a degree. Moreover, studies show that having heavy college debt frequently delays a graduate from buying a home or starting a family.2
Consider these two hypothetical scenarios:
Scenario 1: Terry's parents start investing $100 a month into a 529 plan account right after Terry's birth. In 18 years (assuming a 5% annual rate of return), they could potentially save more than $35,000.3
Scenario 2: Terry has to borrow $35,000 to attend college. Based on a private student loan rate of 7%, Terry could be faced with a monthly payment of $406 for 10 years (or $48,720).4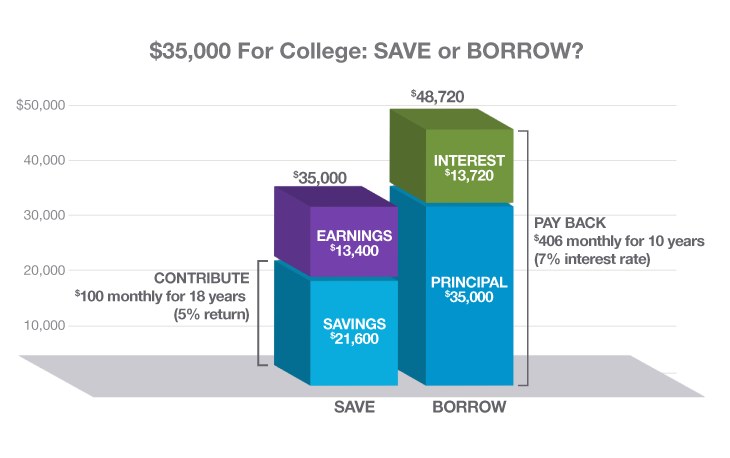 How do many families pay for higher education?
Most will use a combination of financial aid; money they've already saved for other needs, like retirement; and loans.5
The secret is to start saving right now. Regular investments can potentially add up to a college nest egg over time. One way is to put your 529 plan account on autopilot with a recurring contribution (an Automatic Investment Plan or (AIP), or payroll direct deposit through your employer (where available)).3