FOR TEENS & PRETEENS
Pre-teen and teen years are a time when kids are honing their interests and defining who they are. By investing in their hobbies and talents, you can give them a gift that they'll carry forever.

Outdoors gear
If the kid on your list likes being outside, consider getting them outdoors gear. If you don't want to break the bank, look for outdoors activities that don't require a ton of gear (like snowshoeing) or check out the secondhand stores in your community—often, secondhand outdoors gear (especially items sized for kids) is still in great shape. Keep in mind, too, that even the most outdoorsy kids might want to enjoy their music, their podcasts, and their cameras in the outdoors. Look for gear that lets them tote (and protect) their electronics.
Educational Subscriptions
If your teen's the type that loves learning, think about paying to help them develop new skills. Sites like Coursera offer online, at-your-own-pace lessons on everything ranging from graphic design, to music, to languages.
For the bookworm on your holiday list, look for a book-of-the-month club that fits their age level and interests. Alternatively, you could put together your own themed book basket. The Library of Congress has an entire site full of handy book lists. The Boise Public Library also offers help creating custom reading lists (it's open to anyone). Fill in this online form to get started.
A Museum or Arts Membership
Idaho is home to several excellent arts, history, culture, and science institutions. Not only is a membership with one of these organizations a unique gift, if you join them in these experiences, you're also offering the gift of your time. Check out this list by Idaho Tourism and this Wikipedia page to see which museums are closest to you.
An IDeal 529 College Savings Account
Of course, at IDeal—Idaho College Savings Program, we believe that the gift of college savings is one of the most impactful gifts a child can receive. Whether the children in your life plan to attend community college, trade school, or a traditional four-year university, giving the gift of college savings shows that you believe in them and encourages them to dream big.
IDeal has been helping Idaho families save for higher education for fifteen years. It only takes $25 to open an IDeal account, and any family member can contribute to a beneficiary's account. IDeal makes it easy to get other family in on the giving, and Idaho residents can receive a 2016 state tax deduction for contributions and gifts made by December 31st.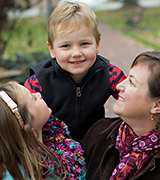 "Last year my kids each received $100 for Christmas from a grandparent, with no strings attached. They both chose to invest in their IDeal college savings accounts. Going to college is something that we talk about as a family.
My parents used to say, 'Money comes and goes. Health can be unpredictable. But once you earn an education, that's yours. Nobody can take your education away from you.'"
Robin Kelley Rausch, IDeal Account Owner
*By clicking on any of the links in this page's description of gift ideas, you will be redirected to third-party websites. IDeal does not necessarily endorse or promote any of the websites or sources promoted here. IDeal receives no compensation for and has no connection with any of the third parties linked on this page.