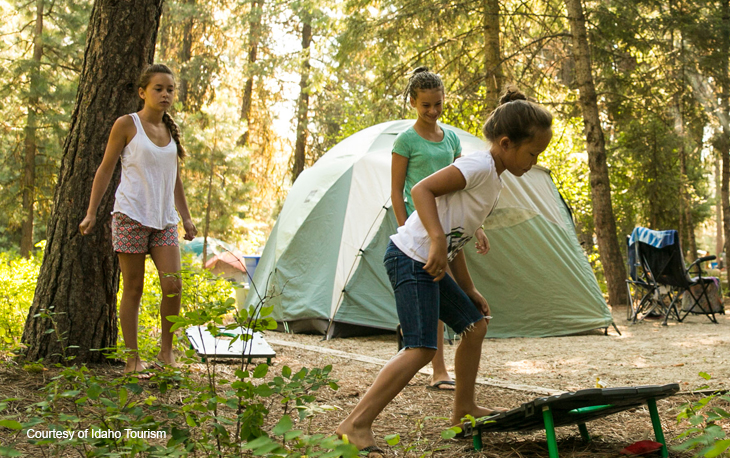 The Big Wood River flows through Sun Valley along the Sawtooth National Forest and the Boulder-White Clouds Wilderness. The area is beautiful year-round, but especially when the weather starts to cool, and the aspen leaves turn red and orange. In the mornings, you can enjoy a cup of coffee (or hot chocolate) by the river, or drive up Highway 75 to see sunrise over the Sawtooths. Nights are cold—even in summer—making it a perfect place for a campfire, s'mores, and stargazing.
We recommend the North Fork Campground, which is just 8 miles north of Ketchum, clearly marked with a Forest Service sign on Highway 75. The campground is well-kept, with a vault toilet that's actually quite nice, and a water spigot available. The river is fast moving, so take care, but most of the campsites are at least 40 yards from the bank. Just be sure to bring mosquito spray.
What to Do
There are a number of close hiking and biking trails. Mountain biking options are available. There's a hiking trailhead just ¼ mile back toward Ketchum at the Sawtooth National Recreation Area headquarters, but the trails there are more challenging. If you have small children, try the easier 2.5-mile Sunnyside Trail off of Adams Gulch Road just a few miles closer to Ketchum. Alternatively, go the other direction—six more miles north—to enjoy the outdoor pool at Easley Hot Springs swimming complex.
IDeal
Want to learn more about IDeal and how we can help your family enjoy today while preparing for tomorrow? Sign up here.
If you want to learn even more about Idaho's kid-friendly outdoor spots, check out 18 Summers, a website created by Visit Idaho.