Six options for active investors
Fixed Asset Allocation Portfolios
Want to maintain a more active role in your 529 investments? IDeal's six Fixed Asset Allocation Portfolios below span a range of investment styles.
These options let you create the type of investment that meets your specific investment goals and risk tolerance. The asset allocation of each portfolio will remain the same until you decide to change portfolios.
(If you choose to invest in portfolios with a significant weighting in stocks, you may want to consider moving your assets to more conservative portfolios as your beneficiary approaches college age. Keep in mind that federal tax law currently permits only two allocation changes among investment options each calendar year.)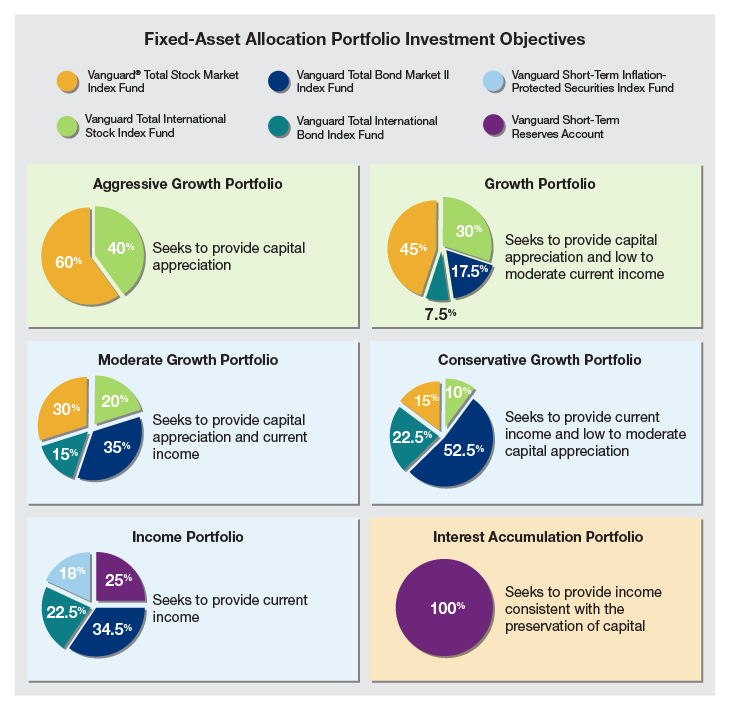 Note: The Income Portfolio and Interest Accumulation Portfolio invest in the Vanguard Short-Term Reserves Account which is comprised of traditional and synthetic guaranteed investment contracts as well as an investment in cash via the Federal Money Market Fund. The Vanguard Short-Term Reserves Account's investment in the Vanguard Federal Money Market Fund is not insured or guaranteed by the Federal Deposit Insurance Corporation or any other government agency. Although a money market fund seeks to preserve the value of the investment at $1 per share, it is possible that the Vanguard Short-Term Reserves Account will lose money by investing in the Fund.