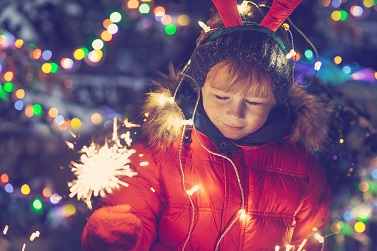 Step 3: Make the ask
It can be awkward at first to ask that your family and friends forego traditional gifts and give college savings instead, but the small discomfort can be so worth it!
Here's a suggestion for how to approach the ask:
Dear Family and Friends,
Gifts are never expected but if you would like to give a gift to Jackson for Christmas, here are a few ideas:
1. Books
2. A contribution his IDeal—Idaho 529 College Savings Account
(Be sure to include the gift code and web links or printed vouchers to make it simple for the gifter).
3. An experience, like ice skating.
Step 4: Thank your gift givers
Following up is the most important step. Be sure to send a personalized thank-you when people gift to your child's 529. Handwritten notes are especially prized, but any type of thank-you note gives you the opportunity to express your gratitude and to explain how important the gift is to your long-term education goals.
There are many creative ways to involve the kids in the thank-you as well:
If they can write or draw, include their thank-you note with yours.
Host a video-call or send a video for kids who aren't big enough to write a thank-you just yet.
Take a picture of your child with the money or the check and a big smile.
These types of personalized responses send the message that your gift was appreciated and that your child was indeed excited about it. Many times family members just want to see your child's face light up. This is a great reminder that other things besides toys can make that happen!